Monday Afternoon Sailing
All ages welcome at Lake Manuwai Monday afternoons from 3.30pm (Terms 1 & 4). Wide range of boats & activities available. Try sailing for the first time or hone your skills! $10 cash on the day - no cash, no splash!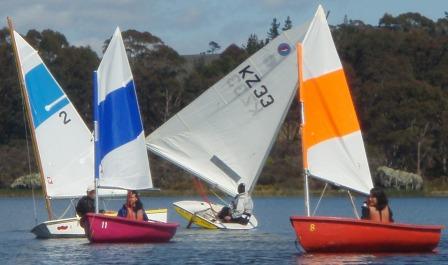 Contact Doug France on 027 433 5709 for more details.
Learn to Sail
The Learn to Sail program at Lake Manuwai is just the way to get started in sailing. The courses offer the opportunity for both children and adults to learn to sail. No experience is required. All the instructors are trained to Yachting New Zealand (YNZ) standards and the courses are run in accordance with YNZ guidelines for Learn to Sail Levels 1 & 2. Courses are run for approximately 10 weeks in October/November and again in February/March/April. Level 1 courses are held on Saturday mornings and Level 2 courses are Sunday mornings with a YNZ certified coach and KCC trained volunteer coaches.

The course cost includes use of club boats, buoyancy aids and a Yachting NZ log book that covers all the theory aspects but the courses are mainly practical. The time taken to complete the courses depends on the sailor with most taking at least a term to complete a level.
For information or to register call Doug France on 027 4335709 or email This email address is being protected from spambots. You need JavaScript enabled to view it.
---
Centreboard Coaching
After you have learnt to sail at Lake Manuwai, come on down to Doves Bay to develop your skills with our YNZ certified coach. This course is suitable for both children and adults with some sailing experience or who have completed the YNZ Learn to Sail levels 1&2. Courses are aimed at developing sailing skills, gaining confidence, having fun and starting to race.
For information or to register call Doug France on 027 4335709 or email This email address is being protected from spambots. You need JavaScript enabled to view it.
---