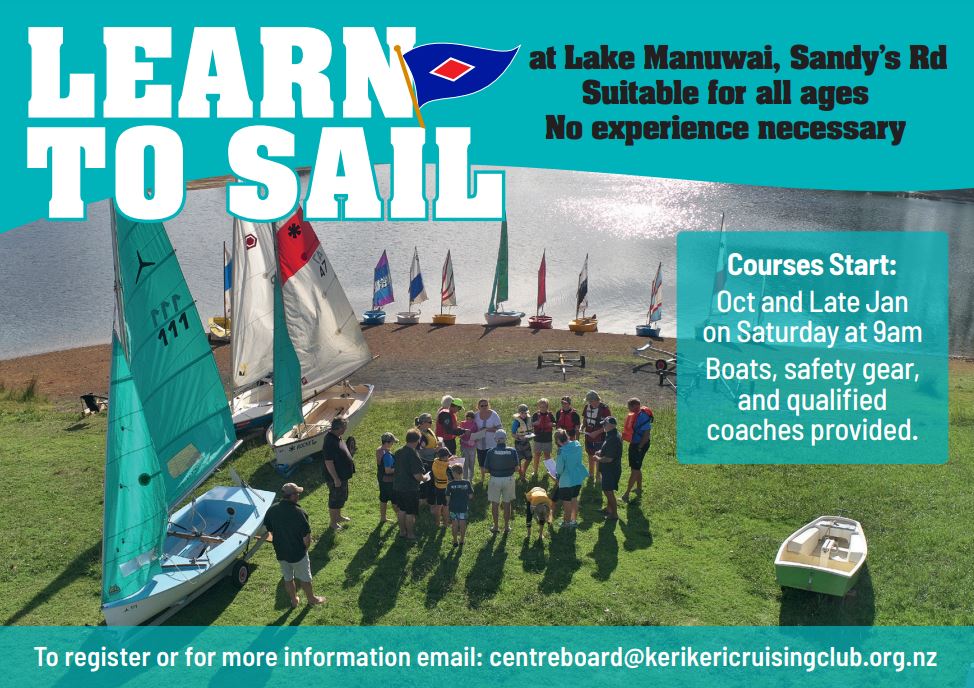 Learn to Sail programmes at Kerikeri's Lake Manuwai are just the way to get started in sailing. Please email This email address is being protected from spambots. You need JavaScript enabled to view it. or phone Derry Godbert on 027 294 6100 for more information.

The courses offer the opportunity for all ages to learn to sail. No experience is required. All the instructors are volunteers, trained to Yachting New Zealand (YNZ) standards and the courses are run in accordance with YNZ guidelines. Advanced tuition in your own boat can also be arranged. All sizes and types of boat catered for.
Yachting New Zealand Basic Certificate Courses Levels 1 & 2
Introducing beginners to sailing, is a great way for new Club members to get involved and meet people. Level 1 will teach you…
Safety and Wind Awareness
Know you boat parts & how to rig
Knots practise
Balannce, steering & sail trim
Launching & retrieving
Boat Handling, tacking gybing
Capsize & recovery
Upwind & Downwind
Sailing collision avoidance rules
Level 2 extends the skills learnt in Level 1 and also covers….
Weather and Tide
Rules and Hiking
Launching and Retrieving
Level 1 courses are run on Saturday mornings from 9.00am to midday in October/November and February/March/April. Extra time is available on Mondays after school during these months.

They are run at Lake Manuwai with boats and buoyancy aids provided. The course cost includes a Yachting NZ log book that covers all the theory aspects but the courses are mainly practical. There are YNZ qualified instructors running the courses. The courses cost $150 - $200 per term. The length of the courses depends on the sailor.
After you have learnt to sail at Lake Manuwai, come on down to Doves Bay to develop your skills with our coach... Please email This email address is being protected from spambots. You need JavaScript enabled to view it. for more information.